OUR SUSTAINABILITY POLICY
We have an ongoing commitment to developing ways of reducing the environmental impact of our operational activities. Initiatives include the regular maintenance of sites, identification and conversion to low impact processes, product stewardship and creating sustainable business partnerships for future generations. Quality, safety and corporate accountability form the core elements of our business philosophy.
WHY CHOOSE ORM 100% NATURAL RED OXIDE?
Superior protection
Our 100% the natural mineral offers better protection than synthetics when used in marine paints and coatings. Simply select the correct OXIRED® grade. Please see results of tests in the panel on the right.
Greater resistance to corrosion
The lower level of soluble salts in natural red oxide ensures long term protection against blistering when used in protective coatings.
Quality and durability
In cement and concrete manufacturing, natural red oxides form crystals during the production process which prolongs the colour-life of the product. Though less expensive, there is no loss of quality or durability when using our natural oxide.
Less environmental impact
The OXIRED® 100% natural iron oxide comes from our own mine, guaranteeing consistency and quality. It is then dried in the sun, milled, graded and packaged. There are no additives, no chemical processing and no filtering unlike synthetic oxides which relies on toxic residues in its production process.
Cost saving
By replacing synthetic red oxide with the proper OXIRED grade you will find very significant cost savings.
PROVEN ORM
PRODUCT QUALITY >
In rigorous independent 500 hour Accelerated Weathering tests, paint primers and coatings containing 100% natural red iron oxide consistently outperformed alternative products using synthetic red oxide.
MORE >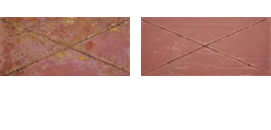 TYPICAL ANALYSIS – RED IRON OXIDE
GENERIC DATA >
Ferric Oxide – Fe2O3 80-82%
Silica – SiO2 11.00%
Calcium Oxide – CaO 1.40%
Aluminium Oxide – Al2O3 2.82%
Magnesium Oxide – MgO 1.49%
Potassium Oxide – K2O 0.86%