OXIRED® GRADES
PRODUCTS
OXIRED® MR11
OXIRED® MR25
OXIRED® MR50
AVERAGE
PARTICLE SIZE
1,04 µm
3,3 µm
8,5 µm
D(0,98)
4,88 µm
30 µm
47 µm
PROPERTIES
SUPREMELY ENGINEERED HIGH DISPERSABILITY & TINTING STRENGTH
HIGH GRADE, SUPERB QUALITY. HOMOGENEOUS PARTICLE SIZE
MULTI-PURPOSE
EXCELENT VALUE
Technical Information
icon-arrow-right

Stable at high temperatures and under ultra-violet radiation

icon-arrow-right

Non-toxic and does not release toxic gases

icon-arrow-right

Leaves no residue

icon-arrow-right

Tested in accordance with ISO 9001 protocols

icon-arrow-right

Can be stored safely for extended periods

icon-arrow-right

Outperforms paints containing synthetic red oxides.
Product delivery
ORM 100% natural red oxide is normally packaged in 25 kilo bio-degradable paper bags, supplied on wooden pallets (44 bags maximum per pallet) and shrink-wrapped for security. Alternatively, it can be supplied in big bags up to 1,300 kilos capacity. If you have special delivery requirements, we will be happy to discuss your needs – please contact us. We accept any size of order and our dedicated export department can usually dispatch orders within 24 hours.
---
GET A QUOTE FOR DELIVERY TIMES >
NB Data on this website is without obligation. The information provided on the site does not constitute a contract.
ORM natural red oxide is renowned worldwide for its durability and stability
Technical Data Sheets
PROVEN ORM
PRODUCT QUALITY >
In rigorous independent 500 hour Accelerated Weathering tests, paint primers and coatings containing 100% natural red iron oxide consistently outperformed alternative products using synthetic red oxide.
MORE >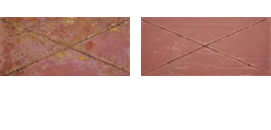 TYPICAL ANALYSIS – RED IRON OXIDE
GENERIC DATA >
Ferric Oxide – Fe2O3 80-82%
Silica – SiO2 11.00%
Calcium Oxide – CaO 1.40%
Aluminium Oxide – Al2O3 2.82%
Magnesium Oxide – MgO 1.49%
Potassium Oxide – K2O 0.86%